Benzdorp Property

Introduction:
Benzdorp is historically the most prolific gold producing region in the Republic of Suriname with alluvial production exceeding 1 million oz. gold. Canarc's recent exploration results confirm the potential for a major new gold discovery. Canarc plans to carry out the next phase of trenching work in 2002 in order to identify top priority targets for drilling.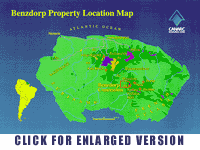 Location and Access:
Southeastern Suriname, 300 km southeast of Parimaribo, the capital city, accessible by charter aircraft to the nearby Tabiki airstrip or by boat up the Marowijne River, then by ATV on the property roads.
Property Description:
Four exploration concessions measuring 42 km x 31 km, totaling 138,000 hectares. Canarc holds an option to acquire a 100% interest (subject to a 20% NPI or 1% to 6% NSR) in the subsurface mineral rights from Grassalco, the state-owned mining company.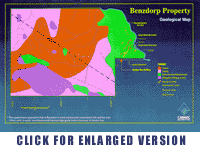 Current Status:
Canarc and Grassalco are in the process of incorporating the Suriname company into which the mineral titles will be transferred. Upon completion, Canarc intends to proceed with trenching work to further develop Benzdorp. Management believes Benzdorp has the potential to be Canarc's next major gold discovery.
Mining History:
Gold production was first recorded from Benzdorp in the late 1800's when English and Dutch companies exploited the alluvial deposits. The Jungle Queen dredge produced over 500,000 oz. alone over a 40 year period. In recent times, hundreds of illegal small-scale miners produce 10,000's oz. gold each year reprocessing the river gravels. Canarc acquired its property option in 1996 and since then has spent US $2 million on 1000's of soil samples, 100's of deep auger drill holes, and three long bulldozer trenches.
Deposit Potential:
Up to several million oz. gold, with some geological similarities to both the 4 million oz. Omai mine and the 50 million oz. Ashanti mine.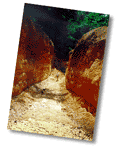 Property Geology:
Most of the known gold prospects occur on the easternmost 5% of the property within a northeast-trending greenstone belt of meta-volcanic and meta-sedimentary rocks intruded by dioritic plutons and crosscut by northeast, north and northwest-trending structures. Every creek for 20 km has produced or is currently producing placer gold. Canarc has focused on four gold prospects which are now drill ready. The JQA prospect alone measures 750 m long x 250 m wide averaging 1 gpt gold, open in all directions. The exploration target here is a porphyry gold deposit of several hundred million tonnes containing 2 to 20 million oz. gold to 300 m depth.